Last week, I told you about a great event happening today – Bloggers Unite for Dog Rescue. So, let's get to uniting, shall we?
I'm always impressed with those who are dedicated to animal rescue. Local dog rescue organizations count on volunteers who help by fostering dogs in their own homes while they search for permanent placement, taking dogs to adoption events, fundraising to cover medical and boarding costs, and so much more
Many rescue groups do not have the resources to promoting their efforts on a large scale. As such, bloggers can make a big difference by spreading the word to give these unsung heroes and homeless dogs a voice.
I've been a bit remiss in sharing adorable adoptables lately, so I thought I would remedy that today. I've chosen three pups from three local rescue groups that are near and dear to my heart: Homeless Animals Rescue Team (HART), Friends of Homeless Animals (FOHA), and City Dogs Rescue (CDR).
Why these three? Well, HART is the rescue group where I found my beloved Bella. FOHA is the group I volunteer with right now (attending adoption events and helping with the Twitter account) and where the boys are from. CDR is a great group I discovered quite recently – I've been working with them as a volunteer blogger.
(Want to know how you can participate in this event? Among other things, you can blog for dog rescue, adopt a companion, spread the word about animal rescue, or even donate to or volunteer with a local rescue organization. Head over to Be the Change for Animals to find out more about today's event and to read more from other bloggers participating today.)
And now, today's adorable adoptables…
First up, I'd like to introduce you to Copper (he's a hound dog) from HART. Copper is approximately eight years old and is good with both dogs and kids. Here's his bio from HART: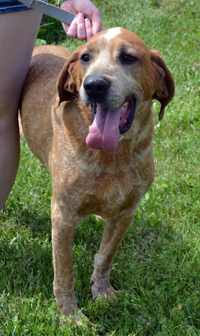 "Copper's new foster family confirms what we already knew he is a super sweet dog who loves hanging with his family. Copper is wonderful with the kids and loves being outside with them. Early in his life, before coming to HART, he was not allowed indoors, so he is still learning that he's welcome inside as well as outside. He is great on car rides and is learning lots of new things, including how to walk on a leash. Copper really knows the ropes and will stop if you put tension on the leash. If you keep it slack, he will walk with you. Copper's beauty is is not just his looks but also his actions. He didn't get much love as a youngster, so he is making up for lost time by showering his foster family with love and soaking up affection like a sponge. Copper is one handsome boy who will make his family very happy!"
Do you have a happy home for this handsome hound? Check him out here for more info.
Up next, meet Bianca (quite the graceful gal) from FOHA. This Lab/Pointer mix weights approximately forty-eight pounds and  has a great smile. Here's her bio from FOHA: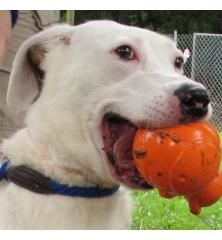 "Bianca is a 3.5 year old white Labrador Retriever mix. She loves to rip and race and is full of energy. She can most often be found with a toy in her mouth ready to play (refer to picture). Bianca would be a great running partner, but also loves to cuddle and give kisses. She is a little choosy about her dog friends and also likes to make sure her people are safe. Bianca would do best as an only dog in an adult only household. If you have a lot of energy and are looking for a companion with same, Bianca is a great choice!"
Perhaps you'd like to rescue this lovely lady? Visit here for more info.
Finally, meet Watson (elementary, my dear) from CDR. This peppy Plott Hound is looking for a home. Here's his bio from CDR: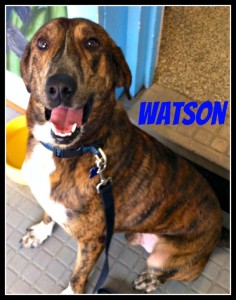 "I'm Watson and I'm a fun-loving boy. I'm 2 years old and 53 lbs. My brindle color is beautiful and very soft!  I love other dogs and people and everyone just adores me. People describe me as happy-go-lucky because I always get excited to see you!  The shelter said I was the nicest Plott they ever met!  I'm full of energy and love to explore on my walks. I make a great running partner! I'm also very well-behaved in the car."
Now that you've collected a few clues, are you considering adding this great guy to your mystery-solving team? To find out more about Watson, visit here.
Is one of these pups for you? Visit HART, FOHA, or CDR for more info and to see many other wonderful pups available for adoption.
Bios and photos from the HART, FOHA and CDR websites.  This post is not on behalf of or officially endorsed by either group.
Similar Smells: