Every week, I'll be featuring adoptable pets from local rescue groups. This week, I'm sharing adorable adoptables from Friends of Homeless Animals (FOHA). Ready to meet this week's featured pups, Queenie & Pookie? Here we go…
First up, meet Queenie from FOHA. Queenie is approximately six years old, and is quite the beautiful Beagle. Here's her bio from FOHA: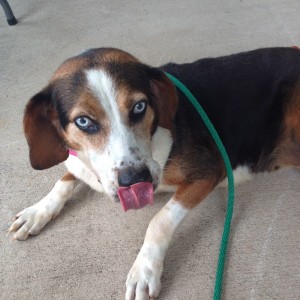 "Hello, my name is Queenie, but I really have no regal airs about me. I'm really kind of a down-home type girl. If there was any queen I'm most like, it would probably be Grace Kelly. Have you seen my gorgeous mascara-lined, blue eyes? Stunning, if I do say so myself.
I'm a beagle mix, about six years old and about 40 pounds. I'm easy on the leash and I get along with everyone and other dogs, too. My house burned down and my owner just left me and two other dogs tied up outside, never came back for us. Can you believe it? Like I understand how he had lots of things to figure out at that point, but I can't believe he would just leave me like that.
Will you be my prince or princess charming and rescue me? I'd adore you forever."
Are you Queenie's knight in shining armor? Check her out here for more info.
Up next, meet Pookie, also from FOHA. This gal is just gorgeous: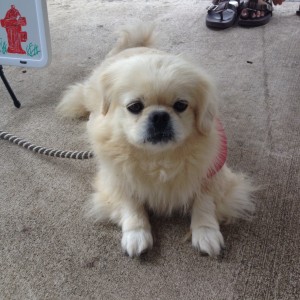 "I'm a glamorous blonde beauty that will have you absolutely falling in love with me. Now a lady usually never tells her age or weight, but I know you need to know these things. I'm five and a slender 16 pounds. I'm a Pekingese and a real sweetheart who came to FOHA when I was rescued because my owner decided to make me and my canine friend 'outdoor' dogs. You know a beauty like me just wasn't cut out to live outdoors. I am great with kids and other dogs.
Come visit with me soon. I think you'll have a hard time resisting me."
Do you have a home for this precious pup? Check her out here for more info.
Is one of these pups for you? Visit FOHA for more info and to see many other wonderful pups available for adoption.
Bios are from the FOHA website; photos are my own.  This post is not on behalf of or officially endorsed by the group.
Similar Smells:
Comments
comments