I've got a special treat for you today – a guest post from my pal Michelle, the lovely lady behind Hey Love Designs! (Fun fact: Michelle adopted her dog from the same rescue group where I found Bellaface.) She's here to tell us about BarkBox - a monthly delivery of goodies for the pampered pooch in your life. I'm pretty sure Bella and Tavish want me to sign up.
* * *
Hi Friends!
I'm a pal of AJ's and we've bonded over college memories, love of DIY, and of course, dogs! I talk about BarkBox so much that she asked me if I wanted to contribute a guest post. Of course I wanted to share the good dog love!
BarkBox is a monthly subscription of goodies – just like BirchBox – but for dogs. Each box can cost you anywhere between $19 and $29, depending on your subscription type, but the great thing about this is you get full sized goodies. They can be anything from toys, bones, and all-natural treats to hygiene products and innovative new gadgets.
I decided to try it out for a few months. I actually don't buy my beagle-mix Nico very many toys. He's pretty happy with his one stuffed animal, a water bottle, and a crumbled up piece of paper. But he's such a great dog and deserves a little spoiling. Plus, with so many dog products out there, how do you determine which ones are good? I thought BarkBox was a great option to try something new.
Here's what I love about BarkBox:
Aside from a few toys that weren't built for strong chewers, the rest have stood the test of time and my dog loves every single one. Although each month he has a new "favorite" until the next box comes.
The treats are almost always grain free, organic, and have very few ingredients.
You can choose the box based on the dog's size. I recently upgraded to the 50+ lb dog box and Nico's happy to getting treats for a "big dog."
You can get a free box just my referring ONE person! No complicated referral structures. Plus that friend gets $5 off their box.
They have subscription plans so you can spend as low as $19 a month. Believe me, it's worth it.
They have great customer service and an awesome social media presence. Check them out on Facebook, Twitter, and Instagram.
Every once in awhile they'll have a special sale where you can save money on some of the items featured in your BarkBox. I've definitely taken advantage of this on several occasions.
10% of your subscription cost goes to a local rescue. Score!
Here's what I don't love:
Just a handful of times I've gotten toys that didn't last more than a day. I talked with BarkBox on Twitter and they now have a special list you can get on for "tough chewers."Yay!
And really that's it! I truly stand behind BarkBox's awesome service and am always raving about it, which is why I'm here today. Nico approves too! I get a lot of packages for business and my online shopping addiction, and he now carefully inspects every single box, hoping it's his BarkBox.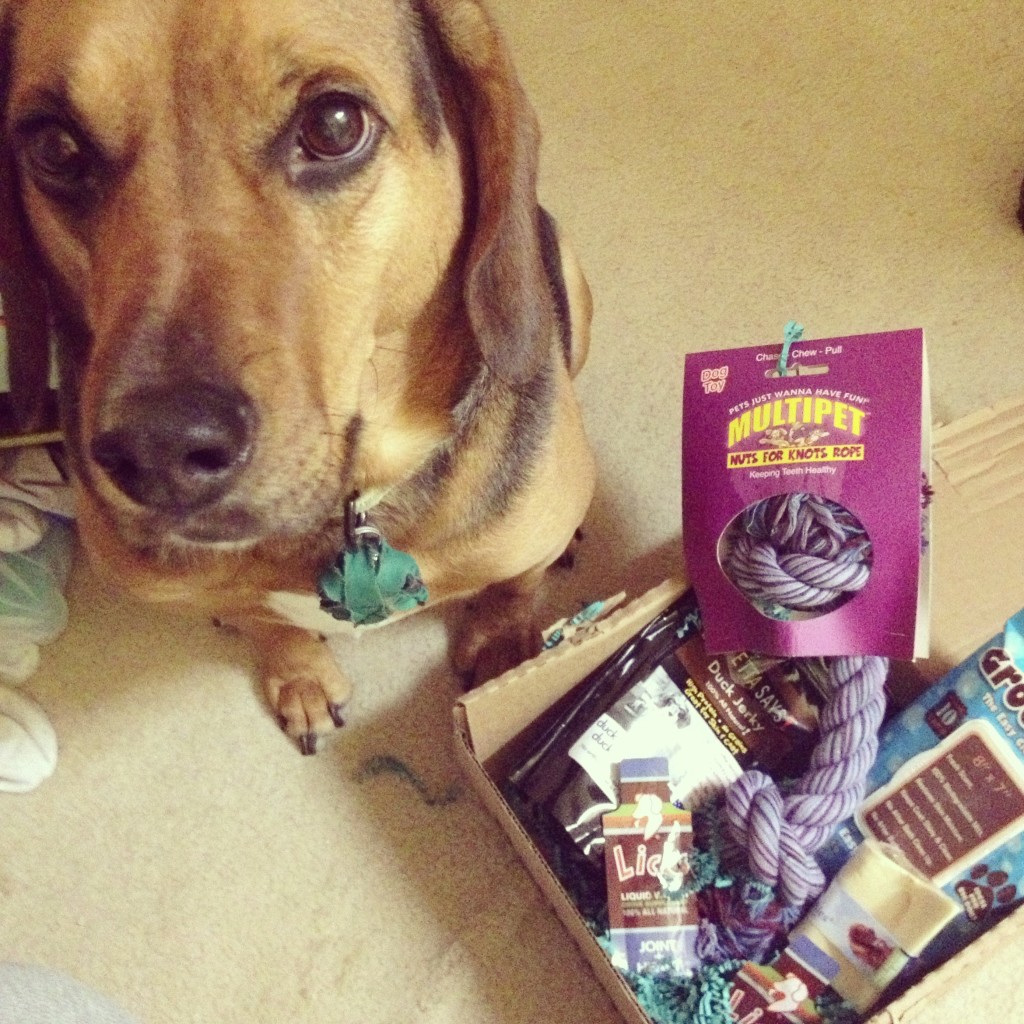 Want in on this fun service? I would love it if you would sign up using my referral link. You'll save $5! Try it for a month or for six months and your dog will be so happy you tried it out.

* * *
I'm Michelle and I love my dog (obviously), design, and dancing. You can find me across the web at Hey Love Designs, Hey, Love (personal blog – there's more Nico love here), Twitter, and Instagram.
* * *
Want to see even more Nico? Check out these great videos of Nico checking out some of his BarkBox booty! Oh, and in case you're wondering, Michelle didn't receive anything from BarkBox for this post. She's just a satisfied customer who wanted to share her experience with you today!