We moved into this house in the winter of 2009. This marks the third spring we've spent here. The past two years were fairly uneventful. However, here in 2012, things have taken a puzzling turn. Before I get too far into it, I should warn you that this post is a long one. I promise I'll try to make it worth your while…
For some reason, the neighborhood birds have decided that my house is a problem that needs to be pecked out of existence. It's like living in a live-action version of Angry Birds. The siege began in April, when this little bird decided that the shiny plate on our front door was looking at him (or her) funny.
In case you can't tell, he's pecking away at the shiny plate. We thought perhaps he thought the reflection was another bird looking back at him. So, we took preventative measures – first, we covered the shiny plate with wax, hoping that it would dull the reflection and the bird would think he scared the other one away. No such luck. Next, we covered the door in painter's tape – nothing classier than a bright blue rectangle on your front door. It worked, although it didn't look so great. So, the husband replaced the painter's tape with some paper. The bird stayed away. Round 1 to the humans.
Alas, that was not the end of our bird-related troubles. With the front door safely secured, another bird decided to continue the attack on the side of the house.
That happened for a while, and we weren't sure what to do about it. However, that bird seems to have given up. Due to forfeit, Round 2 also goes to the humans.
Things have been relatively quiet on the bird front recently. However, this morning while I fought off napping, suddenly there came a tapping, as of a bird gently rapping, tapping on the house's front door. (Quoth the raven, "Nevermore"? I guess not.)
I ventured outside, and our Angry Bird defense system had been compromised.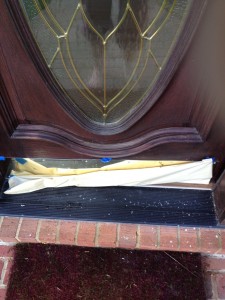 And yes, in case you are wondering, those little white dots are bird poop. When you're part of an attacking bird horde, I guess you don't have time to go somewhere else to do that. (Maybe this bird knows how Jack Bauer felt on 24.)  Today, we'll fix the paper and perhaps the Front Door Bird (FDB) will leave us be.
While FDB was doing his thing, one of his compatriots decided to take advantage of my distraction to attack our rear flank. By that, I mean that he decided the back window was an unguarded and tempting target.
The victor of Rounds 3 and 4 are yet to be determined. However, as far as I can tell, we're surrounded. The husband has even seen another bird attempting to breach our basement window. (I'll have to attempt to score some footage of the basement brigade – I went downstairs this morning to find two different birds at two different basement windows, but they flew away before I could get them on film.)
We'll need to shore up our defenses and prepare for a long siege. Also, perhaps I need to hire a bird psychologist to find out why this year the birds have decided that our house is some sort of fortress to attack. Maybe they think Bella looks like this?
Years (and apartments) ago, there was a Mockingbird that used to dive bomb Bella's butt on a regular basis. I've told you of her past goose-licking attempt. Perhaps word of her prior bird-related actions has finally reached this neighborhood.
Whatever the cause, I hope we can reach some sort of treaty. I've got a white flag ready for the waving. I can only imagine what their demands will be, but I hope they're willing to compromise. It's kind of hard for me to move my house out of their way.
Similar Smells: