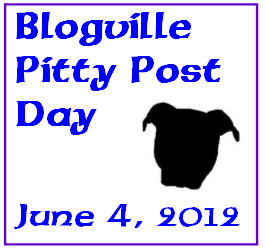 You may remember when I shared a great post from Oh, Corbin – "You call me a Pit Bull like it's a bad thing." Using that post as inspiration, Corbin has organized a special event today – Blogville Pitty Post Day! The mission is simple – share a positive post about Pit Bulls.
The timing couldn't be better for me, actually. This weekend, I had the pleasure of spending a few hours with a fantastic Pit Bull in need of a home, and I'm delighted to introduce her to you today.
As I mentioned on Friday, this weekend I helped out with a pretty cool event –  Sit, Sip & Stay at Bluemont Vineyard in Bluemont, VA. The winery hosted the event for Friends of Homeless Animals (FOHA) – attendees could participate in a wine tasting that would help FOHA's medical fund and meet some of FOHA's adoptable cats and dogs.
I signed up to bring one of these adorable adoptables to the event. My friend for the day? A beautiful Pit Bull Terrier named Jodi. We had a fantastic time. She had a great time interacting with other dogs (including a Lab puppy that kept coming over to play). She loved all of the kids there too (and showed it by giving each of them a puppy kiss).
Now, this little girl is one of the sweetest dogs I've ever met. Unfortunately, she's the victim of breed discrimination. I'll let her tell you in her own words (borrowed from the FOHA website):
"I'm Jodi. If not for my instilled sense of humility, my head would be as Big As The Moon by now! Compliments from all volunteers at FOHA endlessly express my beauty! They say things like my pale green eyes are more exquisite than jewels and my silky fawn coat is highly, highly, coveted. I even hear things like I have the cheek bones of a Goddess and my gorgeous smile is a thousand times brighter than the moon and stars combined. Is there any wonder I smile?! The silliness in my personality keeps me laughing at them actually.
Maybe I could be a Movie Star someday. My "Beautiful Head" would certainly appear as Big As The Moon on the big screen! Whenever I'm in the play run at FOHA, it's always Lights… Cameras…. Action! I can move with the swiftness and grace of gazelles while knowing all eyes are on me! Lucy, a cute little hound, could be my Co-Star! Lucy's my friend and playmate in the play run. Lucy's antics make my heart smile also.
If there were scenes in the movie when I needed to cry REAL tears, my memory of feeling my heart shatter, my spirit so broken, and my fears soar would make my tears flow again. My painful memory of having to leave my loving home, my Mom and Dad, the little kids I adore, and my canine brother remain in my heart always. If only military bases would see the real me and not judge me for my breed alone. They would then know my honorable qualities are the same as theirs. I too am tough. I too stand proud. I too am loyal. I too love my family, home, and freedom. I too, because of my breed alone, put my life on the line. My heart too says…. God Bless The USA.
Love, Jodi"
Crazy, huh? Jodi's family had to give her up because Pit Bulls aren't allowed on military bases. This unfortunate breed discrimination cost her a happy and loving home. After spending a few hours with this wonderful girl, it broke my heart.
The fact that this sweet little dog is banned shows how stupid breed specific legislation truly is. Stereotyping an entire breed doesn't help. Instead, it hurts innocent dogs like Jodi – one minute she's happy as a clam with her family, and the next she's homeless. What did she do to deserve that fate? She just happened to be born the wrong breed.
For Pitty Post Day, I just knew that I had to feature Jodi. She's an adorable and loving adoptable in need of a home, and I hope she finds one very soon. If you're in the northern Virginia or DC area, or know someone who is, please share this post. Let's find Jodi a home and spread the word that discriminating against Pit Bulls doesn't make a lick of sense.
Similar Smells:
Comments
comments