I hate to admit it, but I've come down with a case of Post-Puppum Anxiety Disorder (PPAD). Obviously, it's not a real disorder, so I just made up a name for it. (I did do a quick search, and found a few discussions of post-puppy depression online, actually. I guess mine is slightly different variation on that one.)
Anyway, I'm a bit mortified to be writing this post. After all, the name of the blog screams my desire to have more puppies, and my longstanding motto has been "Puppies = Serenity Now." Well, that just shows what I know. At the moment, more puppies = unjustified anxiety and a serious case of PPAD. So, if you've got your judgy pants on today, I suggest you hop on over to another blog. I can't take the stress, and this post is turning out to be a long one.
We picked up the new dogs on Friday, and I felt just fine on Friday evening. The boys tried to mark in the house a few times, but that was to be expected, of course. It's a new situation, after all.
Saturday morning, I still felt relatively fine. A little tired due to getting up early, but nothing I couldn't handle. There were no accidents in the house that day. They seem to be relatively housetrained and have been doing most of their business outside. For the most part, they've been tethered to me or the hub at all times so that we can keep an eye on them and distract them if they do try to mark. We've been taking frequent trips outside and providing treats when they go out there. They've occasionally been off leash, but only when we can watch them as they move around the gated area on the first floor. (We have a smaller area gated off on the first floor that we've been calling "the pen" – that's where they stay when we cannot watch them or are out of the house. We have also been practicing absences and semi-absences since Saturday.)
On Sunday, however, I think the constant vigilance finally caught up with me. I just had this sense of unease that whole day and it's never quite left. I'm having trouble eating and just can't stop worrying. It's ridiculous. To top it all off, we had another thunderstorm on Sunday and our power went out for about an hour and a half. I think that was the last straw, causing my PPAD to kick into high gear. (Roscoe froze in place during the storm and Tavish shook a bit. I felt so bad for them, but I'm hoping the anxiety is mild enough that I can address it before it gets worse.)
My PPAD feels entirely unearned. Intellectually, I realize that by any objective measure, the boys are doing great. To wit:
We did have one minor marking incident on Sunday – when the dogs were playing, Roscoe marked the fireplace while Tavish was getting attention. We had another minor incident yesterday when Roscoe decided to mark the front door. Other than that, there has been very little marking in the house since Friday night.
Obviously, the boys have not been introduced to all of the rooms yet. However, I've been able to have them in the family room, kitchen, breakfast nook, and our bedroom  the past two days. They seem to be fine and marking attempts have been at a minimum.
When I put them in the pen, Tavish usually settles right down to take a nap. Roscoe jumps straight up in the air like a jumping bean, but he eventually settles too. They haven't tried to jump out (yet), and when I've done semi-absences I haven't really heard much whining.
Bella and the boys are doing just fine, for the most part. The boys had one minor confrontation on Saturday morning, but once I distracted them they were fine. (Bella watched from afar, then plopped down in between them after I separated them, as if to remind me that she was the good one.)
When I was at work yesterday, the Hub had minimal trouble with them. I was home with them today and took them to the vet, and other than a few marking attempts while we were out, it has been an incident-free day so far.
They are adorable. That's just a fact.
So, why the PPAD? I'm sure you're reading that list thinking that I'm absolutely insane. It's okay… I think I'm a bit insane too. I can't quite pinpoint the source of my anxiety. I think part of it stems from the fact that I've never had to introduce a male dog to my house before – the marking situation is new territory for me. I've generally had females.
It's also funny – I thought that Tavish would be the difficult one, and so did the people at the shelter. However, he's lived up to his "bonus dog" nickname in spectacular fashion. Of the two, Tavish had been easier so far. That's not to say that he won't start causing more trouble once he gets settled in, but for now, he's been a pleasant surprise. Roscoe has caused me more heartburn, but he's still a very sweet dog.
For some reason, the rest of my body isn't listening to my brain. My brain knows that it's only been four days, and that things will take time. My brain knows that we'll eventually get through this stage. My brain knows that the boys are actually doing pretty well – things could be a lot worse. My brain knows that eventually I'll find a great deal of joy in having the boys and that I'm very glad we decided to adopt them. My brain gets it.
My stomach? Not so much. My stomach keeps telling me that I should have left well enough alone and continued to enjoy our one-dog household and easy routine. My stomach is being kind of a jerk.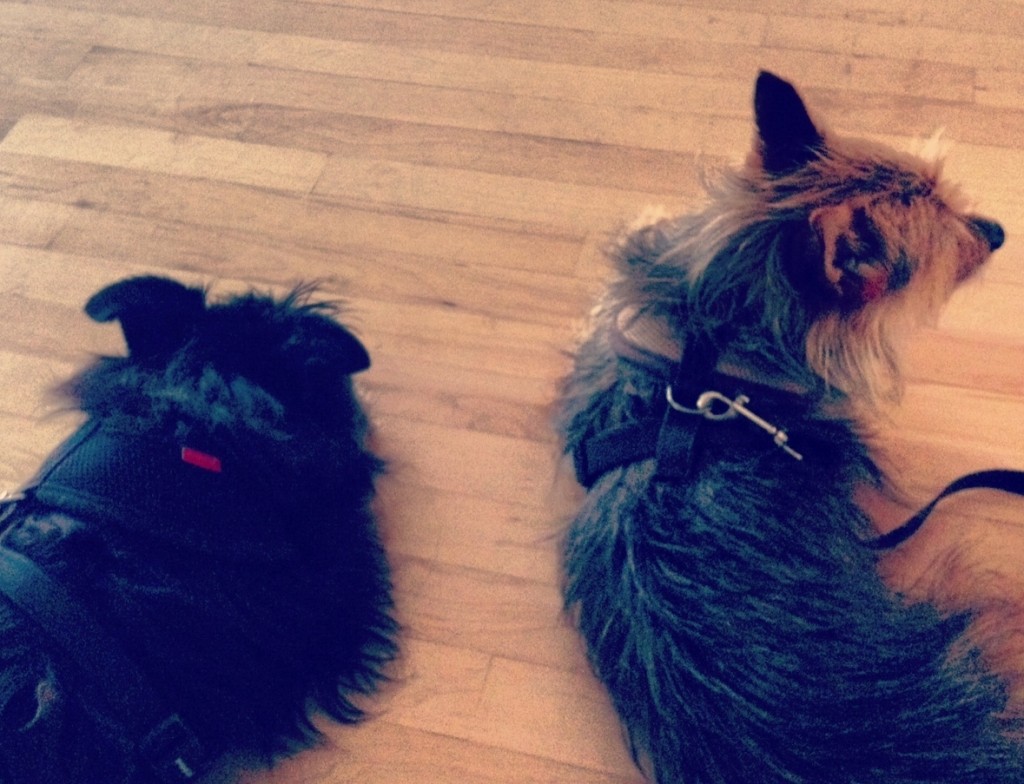 Stomach, just enjoy the cute!
So, here's your chance to play therapist. What's up with me? If you could help me untie the knots that have taken up residence in my stomach, I'd be forever in your debt. I wish my brain would just take charge of the situation and get the rest of my body in line.
Similar Smells:
Comments
comments