I have a special treat for you today… a guest post! In honor of Senior Pet Health Month, Sharon Castellanos from Grouchy Puppy is here to talk about the mental health of senior dogs.  Among her other awesome accomplishments, Sharon is Editor-at-Large for LIFE+DOG Magazine and an active Board Member of Pets Are Wonderful Support (PAWS).  Sharon has contributed to this blog before (and I've even popped up on Grouchy Puppy), and I'm thrilled to have her back today. 
One of the things I have noticed with my old dog Cleo is that she is all about the routine and the familiar. She turns to go down the street every morning, never up. Wherever she is, when it is close to dinner time, she moves to lay by the couch in a holding pattern. She knows it is a quick step to her food bowl from there. She is out of the traffic pattern of us cooking, but she has memorized the smells and sounds that say her meal is ready.
Besides her love for food, Cleo also loves her blankets. We bought four fake sherpa-fleece blankets from Costco about five years ago. One for the car, one for each bed, and a spare. They have been work horses and have held up better than the bed we bought on that same Costco trip. Maybe it's because she is a big girl, but her beds seem to take a beating. Now I know what my sister means when she says that she is "hard on shoes." No wonder she buys a new pair every other month. We haven't had to buy Cleo new blankets, and one reason I'm glad, beside the cost savings, is their familiarity to Cleo.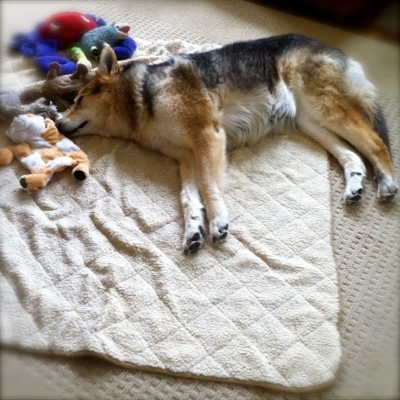 Comfort in the familiar. When I think about Senior Pet Health Month, something that stands out for me now is Cleo's mental health. She visibly relaxes when she is lying on one of her blankets. To me, with her deteriorating vision, the familiar texture and scent of her blankets seem to soothe her. Sometimes I will find her sleeping in the front room, with only her head buried in her blanket. We learned when she has sleepovers with a friend, to leave a blanket for her to sleep on, or rest on like Switzerland. The familiar blanket is probably more important to her than remembering treats. In places that are "not home", her blanket is her special neutral zone, and safe place that smells like us and home.
When we go out for her walk in the morning, we equally contribute to the route and pace. I guide her away from curbs and places she might fall into, as well as slow her down before she rams her head into a tree trunk. She tells me if she wants to walk all the way around the block, or instead that she is ready to return home after a quick pee. If she wants to walk half way, then stand and sniff the air for 10 minutes, we do that. My goal is to give her opportunities for enjoyment.
Experiencing Cleo's aging process helps me understand my parents better. I think of my long distance calls with my 80-year old mother. Half of our conversations involve detailed accounts of her daily routine. She enjoys the familiar and often tells me how much she does not like surprises. I think the calm from her routine helps her mental health, so I encourage her to tell me all about her day. Like with Cleo, I don't rush her pace or hurry her off the call.
When I see first hand how Cleo sighs, stretches, and dozes off in contentment, because her surroundings are familiar thus relaxing, I'm happy. Cleo can go "off duty" and not worry about protecting us or being watchful. If I can help her mental health by making familiar noises so she knows dinner is ready, I will. If I have to sew the edges of her blankets to keep them from unraveling, thus allowing her to keep them another year, I will. If she wants to walk ten steps, or ten blocks, I will guide her. Caring for an old dog has given me a chance to learn about senior nutrition for the first time, but it has also shown me the importance of watching over Cleo's mental health.
Loving Cleo the way we do, it is a gift to have this chance to be on guard for her.
Thanks again to Sharon for joining us today! Pop on over to Grouchy Puppy to read more of her work. Now, let's get this party (by which I mean discussion) started… does your senior dog take comfort in the familiar?
Similar Smells: