So, we have a dog bed on our main level that is the twin (aside from color) of the bed Bella has in our bedroom. She loves the bed upstairs, but generally ignores the bed on the main level. It's really become a site for excess toy storage – she leaves the toys she doesn't really play with in there and takes her favorite ones to Toy Corner.
In the past, she's occasionally shown interest in the bed when we had another canine visitor in the house. True to form, when Roscoe and Tavish started sniffing her bed on Saturday, she just had to get in there… hence, today's post title.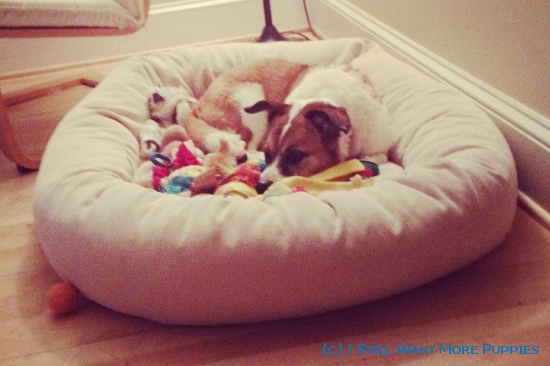 (As you may have noticed, all of my photos of late have been of the iPhone/Instagram variety. Once the pups are settled in, I will happily return to my real camera!)
Now it's your turn – what's Bella thinking?
Similar Smells: