Stop the presses!* It has only been two weeks since my last blog, and I'm already back. I mean, i can't promise I'll make this a habit, but…
Anyway, today I decided to turn my comic energies in a different direction. I've begun to realize that some things I'd classify as bad might look pretty good depending on your point of view. For example: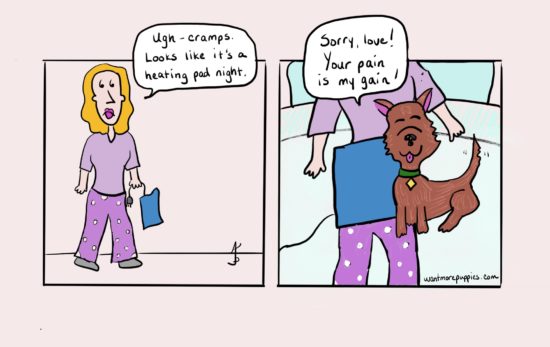 Honestly, Tavish is pretty psyched when the heating pad makes an appearance for any reason.** He also likes when I'm home sick, because it means he can stay in bed allllll day long.
Anyone else's dog seem to enjoy – or at least, find a silver lining in – their misery?
*Younger readers, back in the day we had these things called newspapers. They contained our news and were printed on things called presses. So, if you had breaking news you'd have to stop the presses to add it in.
**Yes, the reason here occurs monthly, but it often appears to soothe other aches & pains as well.
Similar Smells:
Comments
comments