As you know, I often feature adoptable pets from local rescue groups. Today, I'm participating in Adopt a Less Adoptable Pet Week (through September 23), when Petfinder and others raise awareness about the many deserving pets who may be overlooked by potential adopters.
So, this time I'm sharing a few dogs that would fall into that so-called "less adoptable" category. (Or, as I like to call it, the Super Awesome category.)  Today's adorable adoptables are from Friends of Homeless Animals (FOHA) and City Dogs Rescue (CDR). Ready to meet this week's featured pups, Matt and Lily? Here we go…
First up, meet Matt from FOHA. Look at that face – who wouldn't want to take him home? Unfortunately, Matt has been with FOHA for quite some time – as both a senior dog and a Pit Bull, he would be considered "less adoptable" on two fronts. Anyone overlooking him, however, is really missing out on something wonderful.  (After all, senior dogs are awesome, and Pit Bulls can be fantastic snuggle bugs.)
Here's his bio from FOHA: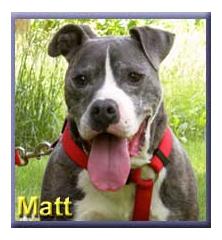 "I'm a senior 'boy' named Matt. While I am 11 going on 12, I still have a boyish disposition. I have been at FOHA, well, how long is forever? It has been a long time. Five years at least. I came to FOHA when a little girl rescued me after I was chained outside for 6 years. I was in foster for a time, but my foster dad had to move because of the rough economic times. Back to FOHA for me where I have been ever since.
While I have a nice cottage in the long-term Village with a comfy love seat, I secretly long to spend my twilight years in a loving home, getting the attention I thrive on. When I was in foster care, I enjoyed long naps, lounging around the house, and taking daily walks. I love people of all ages, from wee little babies to senior citiziens. Other dogs and cats? Not so much. Since I was chained during my formative years, I never had the opportunity to be 'social'.
I promise if you take me home, I will greet you with a smiling face and a wagging tail when you walk through the door. I like soft, cuddly blankets and beds to rest on and a safe place to hide during thunder storms. Boy do I hate those storms. I shake all over. I like being brushed and getting a good belly rub. I'm already housetrained and very well-behaved. I am available to be adopted or permanently fostered. Come and meet me. You won't be disappointed."
Do you have a home for this handsome pup? Check him out here for more info. You can also visit his website or find more charming photos of him here.
Up next, meet Lily from City Dogs Rescue. Wondering how such a gorgeous gal could be considered less adoptable? Well, there's a (dumb) phenomenon called Black Dog Syndrome. Black dogs and cats have a harder time finding a home. Crazy, right?
Here's Lily's bio from CDR: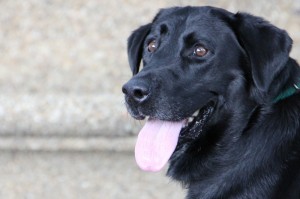 "Hi! I'm Lily, a beautiful 3 year old black lab who loves attention.  I love when people pet me and am very good-natured.  I am well behaved and looking for a home full of love.  I'm a cuddler and love to hang out on the couch with you and keep you company wherever you go! I'm super mellow and get along great with kids!
Perhaps you're smitten with this sweetheart? Go here for more. (There's even a video!)
(Also, a hat tip to CDR for the lovely photos of Lily. Great photos really make a difference – especially for black dogs, who can often be harder to photograph.)
Is one of these pups for you? Visit FOHA or CDR for more info and to see many other wonderful pups available for adoption.
Bios and photos from the FOHA and CDR websites.  This post is not on behalf of or officially endorsed by either group.
Similar Smells: